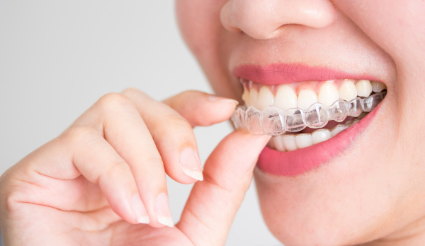 How many people have used Invisalign clear aligners?
Over 9 million people, including more than 4.3 million children, have used Invisalign clear aligners to transform their smiles. So, how is Invisalign treatment different than other teeth straightening options?
Invisalign treatment is the most advanced clear aligner system in the world, backed by more than two decades of innovation.
Unlike braces, Invisalign clear aligners are removable and virtually invisible. There are no wires and brackets, so you don't need to change the way you brush and floss. And, you can continue to eat all your favorite foods.
And no other clear aligner is made from Invisalign's SmartTrack material. This groundbreaking technology helps move your teeth more predictably and in many cases it can help you get the smile you want faster than traditional braces.
Do Invisalign clear aligners contain Bisphenol A (BPA)?
All Invisalign aligner and retainer materials are made of medical-grade, high molecular weight, thermoplastic polymers. These materials were selected for use in aligners and retainers based on their properties and safety classification, and have a long history of FDA approvals for long term use inside the human body. Tests conducted to determine the biocompatibility of these materials show they are biocompatible and pass all applicable regulatory requirements and thresholds for human wear in the mouth.The aligners are free of any latex, parabens, phthalates, glutaraldehyde, epoxy or Bisphenol A (BPA).
How old is the company behind Invisalign clear aligners?
Align Technology, Inc., the company that makes Invisalign clear aligners, was founded in 1997.
Has the FDA approved Invisalign treatment?
Yes, Invisalign aligners are classified as Class II medical devices by the U.S. Food and Drug Administration (FDA). Align Technology, Inc. received the necessary 510(k) clearance from the FDA to sell and market Invisalign treatment in 1998.
Why should I choose Cooney Orthodontics as my Invisalign Provider?
At Cooney Orthodontics we are proud to provide patients in the Capital Region with the highest level Invisalign clear aligner treatment. We have been embracing the smiles of children, teens, and adults for over 60 years. We pride ourselves on being the only VIP Diamond Plus Invisalign Providers in New York's Capital Region. What this means is we have completed the most Invisalign cases to date in the area. Dr. Cooney has been working with Invisalign since it's launch back in 1997. Dr. Tyner has completed extensive training and research on the use of clear aligner therapy in orthodontics. They are both very meticulous with each and every case, working together on every case and spending time digitally prescribing what movements need to be completed for the best outcomes possible. We use vast technologies and updated systems such as 3D digital imaging to provide ease of care for each patient.